Benefits of Early Childhood Education
Children usually had higher rate of:
Completing high school
Above-average test scores
Positive attitudes toward school
among children and parents
Children usually had lower rate of:
Remedial education
Special Education
When at adult, it gave higher rate of:
Stable employment
Home and car ownership
Family involvement
Educational attainment
At adult, it gave lower rate of:
Social service use
Criminal involvement
Substance abuse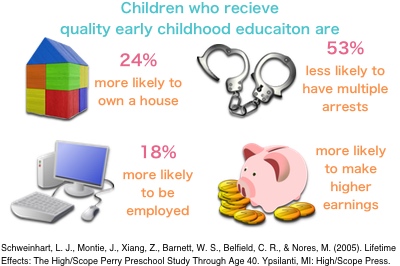 Investment at younger stage
The rate of return to investment in human capital is markedly greater when investments occur at younger ages.
That is, while larger investments have been typically made in secondary education, higher education, job training programs, and remedial education, the rate of return is notably lower than if these same funds were invested in human capital formation during the infant/toddler and preschool years.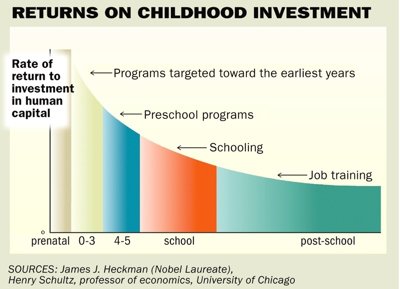 "A large body of empirical work at the interface of neuroscience and social science has established that fundamental cognitive and noncognitive skills are produced in the early years of childhood, long before children start kindergarten..." - Dr. James Heckman
Social Cost and Return
Tax revenue increases due to higher earnings
Increased child and maternal earnings and employment translate into increased tax revenue. Abecedarian participants' lifetime earnings increased by about $44,000, and their mothers' lifetime earnings increased by more than $79,000.
Savings from remedial education & special education
Remedial education can consist of repeated grades or specialized schooling, and the additional cost of this extra schooling can be expensive.
Abecedarian participants experienced lower rates of grade retention and special education placements. Perry participants were less likely to be retained or place in special education classes
Lower crime
A number of programs with long-run follow-ups found the eardly childhood programs reduced juvenile arrests and criminal records of participants.
Many cost-benefit analyses find that these cost savings are substantial, and often account for the single largest portion of the accrued benefits over time.
Improve health
Early childhood education can also benefit society by improving health outcomes for participants, thereby reducing public expenditures on health care, or lowering insurance premiums for private health coverage.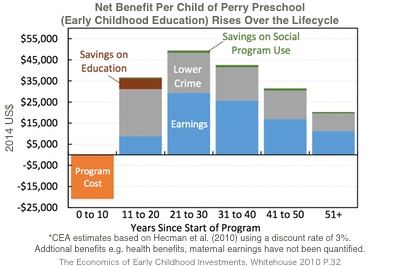 Majority of children are not ready
The achievement gap can be identified among children as young as 9 months of age.
Recent research indicates most, if not all, of the achievement gap found at age 5 (at schoolentry) and at age 8 could be eliminated by an intensive two-year early childhood program for infants and toddlers
When examining the academic records of two groups of students (high school graduates and dropouts), researchers found the dropouts had consistently lower scores in reading, writing, math and spelling when compared to the graduates.
These differences between the two groups of students were evident as early as kindergarten and the disparities increased throughout their academic careers.